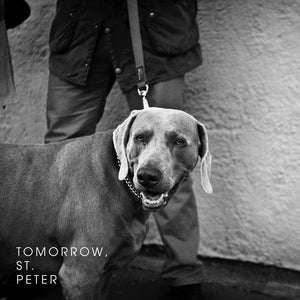 Tomorrow, St. Peter - s/t
Tax included.
Shipping
calculated at checkout.
---
---
Tomorrow, St. Peter is a Swedish math rock/indie band. Started in 2012 by guitarists André and Simon Ampuero, vocalist/keyboardist Axel Ljungstrom, bassist Joel Petersson Ivre and drummer Simon Dovhage, the band took their name from the ominous first verse of 'Cliquot' by Beirut, and drew influence mainly from modern emo and indie bands to create twinkly and technical indie music.
By the spring of 2013 the band recorded, mixed and mastered their first demo EP, Soft Patterns, which was self-released on CD, and played several shows in Sweden (with the likes of TTNG, Native, The Appleseed Cast and more) supporting the release and building a smaller international following online.
The years 2013-2014 the band wanted to reach further and started writing new, different songs, with less emphasis on the emo influence and more influence from indie and pop. The band started recording the debut, self-titled LP in late 2013 and finished the mixing and mastering late 2014. By this time, Joel had moved abroad to study, and Erik von Campenhausen had joined on bass duties. André also started playing guitar in the Swedish screamo band Careless, while staying in Tomorrow, St. Peter.
The debut LP, released on 12" vinyl through Through Love Rec, is an eclectic mix of math rock, indie and pop with hints of emo and post- rock influences. Lyrical themes range from fictional stories of tragedy, social critique and translated poetry.
It was mixed and mastered by André, with the help of Simon Ampuero and the artwork was done by Simon Dovhage.
FFO: TTNG, American Football, Morrissey, Owls
9 tracks///300 copies///12" insert///DL-Code///Black vinyl
PLEASE BE AWARE OF CHOSING THE RIGHT SHIPPING OPTION! 
---
We Also Recommend